2019-2020 Rochester Scholarship Recipients
Cierra Young
2019-2020 Rochester Scholarship Recipient
In today's world, there is a lot of violence which can be prevented. If I could, I would personally set up a Neighborhood Watch or a community patrol this will help reduce the violence here in Rochester.  I am a very caring individual and get discourage at times to see all the violence around us daily. With this community patrol, there are many things that can be monitored such as, checking to see if the street lights are working, curfew for minors, random roadblocks, drug activities, theft, trespassing, and loitering.
Pray Meh
2019-2020 Rochester Scholarship Recipient
If I could, I would like to continue a higher education to further my future career. I am proud of the successes in my education that I have achieved. My parents never got the education they wanted. There was no opportunity for generations to have a dream. At the age of six, being a girl, walking alone to school for approximately 30 minutes was scary. School supplies weren't free. All I could afford was a composition notebook and a pencil.
2019-2020 Dallas-Fort Worth Scholarship Recipients
Nura Ibrahim
2019-2020 Dallas Fort-Worth Scholarship Recipient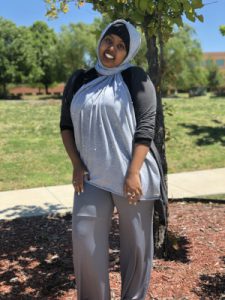 My childhood was filled with terror, poverty, and violence. When the war occurred in Somali, my home country, I had a traumatic experience of witnessing some of my family being killed in cold blood and unkindness with the hand of terrorism. After seeing the chaos getting worse in our city Mogadishu, My father decided to escape and flee to wherever we could find safety. My family and I left everything as we fled our home, in Somalia, to somewhere we have never been before, Ethiopia. We walked for days, eating no food and only drinking water. On this journey, we were vulnerable to the wild animals in the desert, but Our Lord saved us from harm. Finally, we arrived at the refugee camp in Ethiopia where we received a warm welcome from people who provided us our daily necessities. When we came there, the United Nations welcomed us by warmly providing us with urgent aid including our shelter, food, and education.
Sunita Pradhan
2019-2020 Dallas-Fort Worth Scholarship Recipient
If I could, I would create a platform now to help some of the most promising but underserved people in my community. In Dallas, only 25% of Bhutanese refugee students complete high school and move on to attend higher education. They drop out because they don't understand their assignments or have low scores on STAAR tests. They become discouraged at the time it takes to learn English and feel frustrated by a lack of success. They decide that graduation is not a goal that can be achieved. Working, even for low pay, is more attractive than a cycle of failure.
2018 Dallas-Fort Worth Scholarship Recipients
Eh Kaw Thaw
2018 Scholarship Recipient
If I could, I would like to go back to my birthplace. Born in one of the 9 refugee camps located in Thailand, being alive was a privilege. Like every other family living there, my parents risked their lives to cross the river and escape persecution from the Burmese soldiers. Through the many stories that I overheard as my mother shared her traumatic past with friends, it amazes me of what one is willing to risk for safety. Sometimes, I would even record their conversations in order to replay and remind myself of the sacrifices made for me to be where I am today.
Na Khai
2018 Scholarship Recipient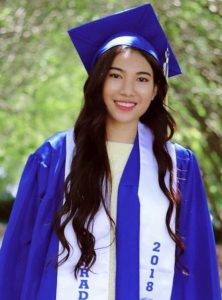 My childhood was filled with poverty, and overcoming difficult circumstances is something I understand well. My mother and father have only a primary school education, and in Burma this meant a life of obstacles. My father worked in construction, earning little more than a back full of pain and arms exhausted from hard labor. My mother stood on her feet for ten-hour shifts at a clothing store. They fought for our survival and had little time to care for my siblings and I. However, they deeply valued education. No matter how expensive the used textbooks and tuition were, my parents found a way.
2017 Dallas-Fort Worth Scholarship Recipients
Radha
2017 Scholarship Recipient
If I could, I would select a place during my travels to build an orphanage. It would be more than a house of bricks and walls; it would be a home constructed of love, trust, and care. I want to provide shade to children who burn under the sun, satisfy stomachs that ache with the emptiness of insufficient meals, and fill the spaces in hearts that cry from loneliness. While I know it would be easier to donate to an organization that is already established, I want to be there, personally, for the children in my orphanage's care. I want my own hands to provide what is needed. I want my actions to convey that "I am here for you" and see reflected back in children's eyes the knowledge that "she is here for me." I want to build my orphanage into a family of togetherness, dignity, and support.
Aimee
2017 Scholarship Recipient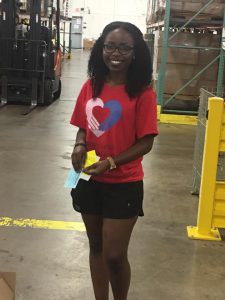 If I could, I would like to form my own organization of women to mentor and encourage girls to further their education. When women help other women rise, the empowerment creates a change that ripples through society. Teaching teenage girls to lead younger girls in finding positive ways to work through challenges develops strength and self-esteem in both groups. Through my organization, my goal is for women and girls to discover that with hard work, they can find everything they need within themselves.
Through my program of mentors, young women will be inspired to start thinking about their futures and learn to decrease distractions from education. We will support girls who experience difficulties and guide them in finding their own solutions to issues. Eventually, our girls will develop the confidence to set goals and face obstacles on their own.